Women as Musician Entrepreneurs
Now Available To View On-Demand!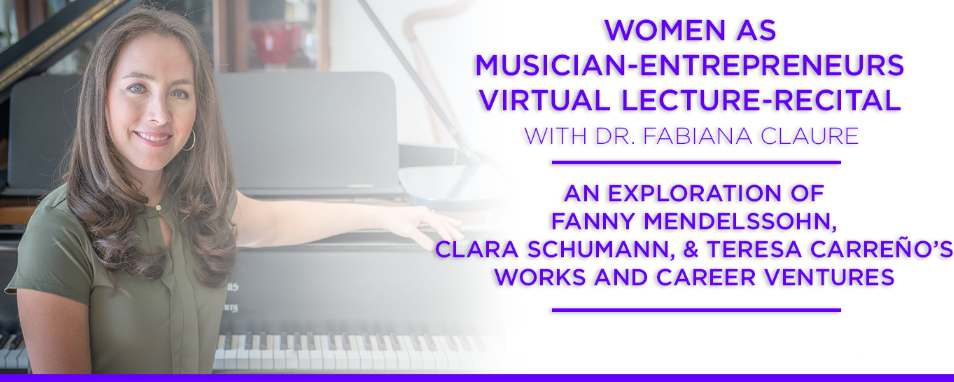 This multimedia presentation discusses the fundamental entrepreneurial skills needed to be a successful musician, using examples from three of the most influential and important women musicians of the nineteenth and early twentieth centuries: Fanny Mendelssohn, Clara Schumann, and Teresa Carreño.

Through an entrepreneurial lens, the program explores how Fanny was able to create and run a concert series, create performance opportunities for herself, and publish her compositions, how Clara was able to pursue a 61-year career as a self-managed concert artist and composer, and how Teresa was able to successfully sustain a 54-year international concert career, manage several performing companies, and establish herself as a published composer. Special emphasis is placed on the context of each woman's successful, long-term career as pianists and composers while still handling domestic life, raising children, and facing the gender-discrimination barriers of their time. In addition to a performance of Fanny, Clara, and Teresa's piano works and spoken remarks, the program also includes a virtual reception where the audience can engage with Dr. Claure through Q&A.

The goal of the presentation is to highlight how these resilient women were able to overcome incredible obstacles by using entrepreneurial skills to further their careers and provide for their families. In doing so, they established new benchmarks for women in music. Audiences will experience a journey of reflection, inspiration, and will be prompted to take proactive action. They will learn how to see entrepreneurship as both a mindset and a discipline that can help them create human connection, become empowered, and pursue their own definition of success. By learning from the past, we can better understand the present and create a more successful future.
Program teaser for Nov. 15th, 2020 virtual recital (now the program is available on demand)
Fabiana Claure plays an excerpt from Fanny Mendelssohn's "Song for Piano" Op. 8 No. 1
Fabiana Claure plays excerpt from Teresa Carreño's "Vals Gayo"
Insights into the program Women as Musician-Entrepreneurs
This video is from a Facebook live that I shared back in early March 2020, before the in-person concert was to take place locally in the Denton-Dallas area. Shortly after making this video, the pandemic caused me to postponed it to March 2021. I'm now available to present an online adaptation of this program virtually for any individual or community interested in experiencing it.
Contact me to inquire about virtual booking opportunities.
Upcoming Performance dates:
March 10th, 2021 at 1:00pm: Multimedia Lecture-Recital: "Entrepreneurial Women Concert Pianists" at University of North Texas (Recital Hall), Denton, TX

Previous performance of this program:


November 15th, 2020 at 2pm Central Time: Live-Streamed Virtual Lecture-Recital.
October 2019 - College Music Society National Conference in Louisville, KY.